In light of the UK government starting to reduce travel restrictions from 17 May 2021, and following an internal review, travel overseas for the purpose of carrying out research or studying away (including fieldwork) will now normally be regarded as sufficient reason to travel by the University, if evidence of necessity is included in the risk assessment and provided several criteria are met. The full consideration for this policy is available in this report from the Study Away Risk Assessment Committee.
Procedures for Travel and Working Away
Working away from Cambridge means, in this context, "any activity undertaken in connection with the business of the University in locations other than those which are the usual domain of the work".
 As a minimum standard you should:
• do a risk assessment or check that there is an existing valid one
• revise the risk assessment if necessary
• check out insurance arrangements
• make sure emergency arrangements are in place
The risk assessment required for routine types of work, such as attending other universities or conferences, can be generic and simple. You can create and submit a Low Risk Travel Risk Assessment Form here or complete and submit a paper version (see below) and send this to the Safety Office (safety-office@eng.cam.ac.uk):
Staff – Low Risk Travel Form                      Student – Low Risk Travel Form
For longer term working away or for medium risk activities (e.g. staying in remote areas, visiting developing countries, using laboratory facilities etc.) you should complete your own risk assessment using the Medium Risk Assessment Form (Standard) below and send this to the Safety Office (safety-office@eng.cam.ac.uk) for review prior to obtaining any authorising signatures.
Staff – Medium Risk Travel Form                  Student – Medium Risk Travel Form
For high risk activities please consult the Safety Office at the earliest opportunity to discuss your travel and working away requirements.
Please note that University Travel Insurance cover, if required, must be applied for separately prior to travel.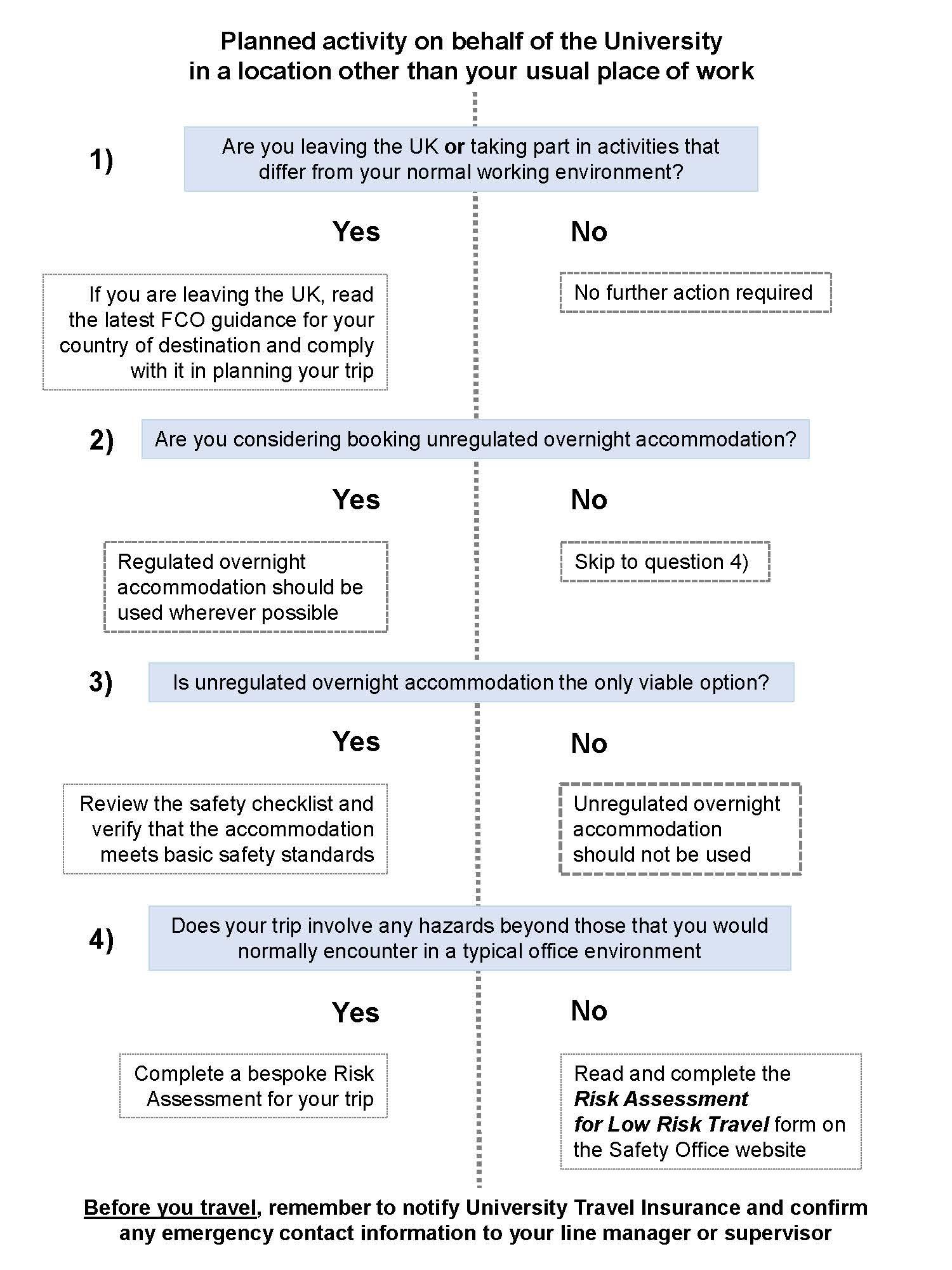 Further Information and Guidance
Further University guidance can be obtained as follows:
Guidance for Travel Fieldwork and Work Away from Cambridge